The Brazil edition of Trust Rules, published by Primavera Editorial (in Portuguese, naturally!), was launched on 21st September 2017 in Sao Paolo, Brazil.
Regras da Confianca features a preface by Ruy Shioza, CEO of Great Place to Work Brazil, with an excellent introduction by Daniela Dinaz, Director of Content and Events at GPTW Brazil, in which she explores attitudes of Brazilian Management towards building trust, and sets the book against that context. Otherwise, this edition is a direct translation of the original Trust Rules, with nothing added or taken away, reflecting one of the book's key insights – that the factors that cause us to trust or distrust our managers (or anyone else) are essentially the same, regardless of nationality, ethnicity, generation, gender or any other factor. If you're interested in buying a copy we have a small number in stock in Dublin and can get more shipped in with a little notice – order from our shop on Amazon.co.uk here.
Thanks to Lourdes Magalhães, Partner at Primavera Editorial, for making this happen so quickly.
The Brazil edition is the first of a number of national and regional editions planned for 2017 and early 2018 and we'll keep you informed on progress. In what is shaping-up to be a very close race it seems that the Africa edition with local input from Kunle Malomo may just pip the others in the race to publish! Watch this space.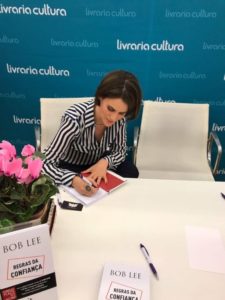 Daniella Diniz signs first editions of Regras da Confianca at the Sao Paolo launch party on 21st September 2017.