[vc_row][vc_column][vc_column_text]What comes to mind when you think of a 'great workplace'?
Great perks and benefits. Incredible facilities. Super pay and bonuses. Play areas and sleep pods. At-desk massage, bring your dog to work days, and free gourmet food, available around the clock? Right! Although many workplaces offer at least some of these features, some of those workplaces are also pretty lousy places to work. And the opposite is also true. Many employees in workplaces which offer few, if any, of these perks, report that theirs are great workplaces. How come?
Research by Great Place to Work and many academics over the past 40 years has found the key factor which causes an employee to report that theirs is a great workplace is the level of trust that they enjoy with their managers. High-trust creates a great workplace. Low-trust means a lousy workplace. You know that from your own experience, I'm sure? We have always known that people leave managers, not companies – it's a cliché at this stage. But it's important to be precise – good employees don't leave just any managers – they leave low-trust managers. And they stay with high-trust managers.
Repeat: Employees stay with managers that they trust.
And that single fact is the key to understanding the incredible competitive advantage that the World's Best Workplaces – a.k.a. the World's Most Trusted Workplaces – enjoy.
Here's how it works….
Employees stay with managers that they trust. The longer they stay, the more valuable they become to the organisation. They understand the systems better, they know the right people to talk to, they can help customers better.
Innovation flourishes – people feel confident to make suggestions and to try new ways of doing things, knowing that their manager will support them if things don't quite work out.  They want the enterprise to succeed and are immensely proud of what they achieve with their colleagues.
They feel comfortable together, accepted for who they are. They feel appreciated, valued. The company's reputation grows. Word gets around that theirs is a great place to work. More people want to work there, and this greater choice allows the organisation to find people who are just the right fit for the prevailing culture. And people stay where they feel they belong. Things get done quicker. Things get done smarter. And things get done right first time.
This greater productivity feeds through to greater profitability. Employees get a fair share of the rewards, and investment in facilities and benefits reflects the respect that the organisation has for its people. It takes many people at every level in the organisation to create a great workplace.
But it starts with the managers. 
Because the manager is the bridge – the only bridge – between the ideals and ambitions of senior leaders and the lived day-to-day experience of each employee. Values prominently expressed in the reception area are mere words. It's the day to day behaviour and attitudes of my manager alone that will determine whether those words acquire real meaning for me or are simply empty phrases echoing around a low-trust, low-engagement couldn't-care-less workplace.
You can read more about the benefits enjoyed by high-trust workplaces in Trust Rules, and you'll also find suggestions in there for how to find out more about this fascinating subject.
2.5X STOCK MARKET PERFORMANCE OVER 20 YEARS
The Best Workplaces outperform their peers on every business metric that counts, including employee turnover, number and quality of job applicants, innovation, stock market performance and more. The Best Companies to Work For in America, for example, achieved cumulative growth 2.5x that of the key stock market indices over the 20 years from 1998 to 2018.

Note the two yellow arrows, which highlight the economic downturns of 2003 and 2009. You can see that even high-trust organisations aren't immune to downturn – when the market dips dramatically, they dip too. The difference is in the speed and extent of their recovery – while the market limped along for a few years after each set-back, the high-trust organisations bounced back quickly and entered periods of sustained growth. How? Because they were able to draw on the trust that had built between managers and staff. Decisions were made faster because people trusted each other. New ideas were brought forward, alternative ways of working tried. Everything works better, and moves faster, when there is trust.
You'll enjoy this highly acclaimed TEDx talk in which Alex Edmans, Professor of Finance at London Business School, explores the long-term impacts of social responsibility and challenges the idea that caring for society is at the expense of profit. Alex spent four years conducting an in-depth analysis of Great Place to Work's Best Companies data-sets and shares some of his findings in this fascinating talk, focussing in particular on the 'chicken and egg' question about high-trust workplaces: do high-trust workplace relationships CAUSE good business performance, or does good business performance put companies in a position where they can afford to invest in building great workplaces with high-trust relationships at their core?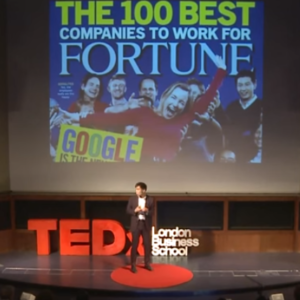 WATCH HERE: https://www.youtube.com/watch?v=Z5KZhm19EO0
In the meantime, I recommend the resources below for starters.[/vc_column_text][/vc_column][/vc_row]